La Paz, Bolivia Shoeshine project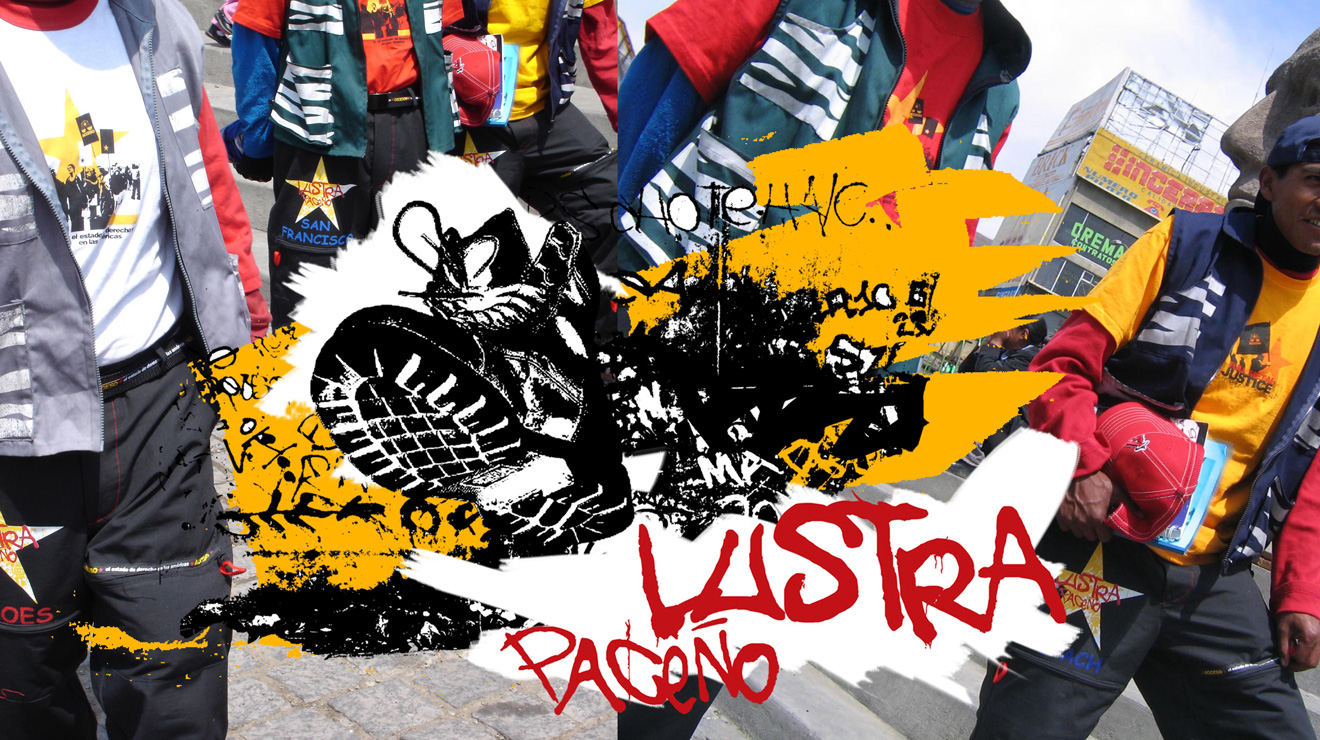 As central part of Plan Bolivia, the "Lustrabota Paceno" initiative has been a socio-cultural intervention that took place around Plaza San Francisco, a square which dominates the center of La Paz, the administrative capital of Bolivia. Some 200,000 to 250,000 people converge there daily from around La Paz, its southern suburbs, and the neighboring indigenous communities of El Alto.


The "lustras" are humble young boys, between 8 and 17 years in age, who work at around Plaza San Francisco shining shoes. They traditionally cover their faces with ski masks to avoid being recognized. To be a lustra is not a job - it is a method of survival.


Lustrabota Paceno has transformed 30 lustras into educators and facilitators of information about fundamental human rights. They were trained to function as a mobile channel of information that interacts with the daily activities of the plaza and provided with clothing based on the colors of Bolivia's national flag. Some apparel feature messages that promote human rights, labor and cultural rights, while other garments provide the youngsters with a sense of identity and lustra pride. Their pants have special adaptations so they can save their working tools (labeled with popular culture graphics) and are constructed locally of resistant and dark material so that the lustras can do their work without esthetic setbacks.
The clothes were provided to the lustras gradually and corresponded to their respective advances in the different levels of this public education initiative. The mandatory workshops about human rights were taught by various instructors like the banker Vladimir Muller (who himself had once worked a shoeshine boy), Justice Jose Baptista (of the Supreme Court of Bolivia), Professor James Cooper (Director of Proyecto ACCESO) and Yerko Ilijc (Plan Bolivia Director).

The lessons from these workshops were then transmitted from the lustras to their clients. In this process, the lustras became mobile public educators and human rights promoters - person to person transmitters of critical citizenship and civic participation information. Given the culture of informality in which the lustras operated, they transformed their roles and set an example for the rest of Latin America. Lustrabota Paceno has generated a collective conscience that strengthens the rule of law and contributes to the social justice objectives of the Bolivian authorities.


Some publishing articles about our work with this project in Bolivia:

In Professor, Shoeshiners Find a Good Lawyer, L.A. Daily Journal 2008
Lawyer Empowers Outcast Kids in La Paz, WSJ 2008