For more than two decades Proyecto ACCESO, based at California Western School of Law, has promoted a better model of "sequencing" by facilitating the process by which legal reforms precede or run concurrently with the economic reforms that are prescribed by international financial institutions, regional aid agencies, and foreign lenders.

Moreover, we have developed new and more integrative solutions based on experience and understanding of local cultures. We have assisted in the construction of the New Political Constitution of the State of Bolivia, the drafting of model legislation for the Chilean Government, the introduction of judicial innovations to speed the administration of justice, the public education of civil society about the rule of law, and the training of the legal sector in new skills around the Western Hemisphere.

We have also empowered non-governmental organizations, indigenous groups, newly minted state institutions, university professors and students, and other members of civil society with the tools to increase access to justice.

ACCESO has broadly targeted most age groups and classes in society. We have trained thousands of judges, prosecutors, public defenders and private lawyers through our highly successful legal skills training workshops. We have also educated a new generation of children and at risk young adults about their legal rights so as to support the changes underway in the legal cultures of the region's respective countries.

Through our work in over 15 countries, we have learned that each demographic group requires a unique approach to public education. What works with seasoned professionals in the legal sector will not be appealing to at risk youth nor the general public.

Proyecto ACCESO has been funded by and partnered with such diverse stakeholders as the Avery-Tsui Foundation, William and Flora Hewlett Foundation, the Organization of American States, United Nations Development Programme, United Nations Office on Drugs and Crime, the Inter-American Development Bank, the German Government Technical Cooperation Agency (GIZ), Konrad Adenauer Foundation, Friedrich Ebert Foundation, the United States Departments of Justice and State, U.S. Agency for International Development, various Latin American justice ministries, think tanks, universities, and national bar associations.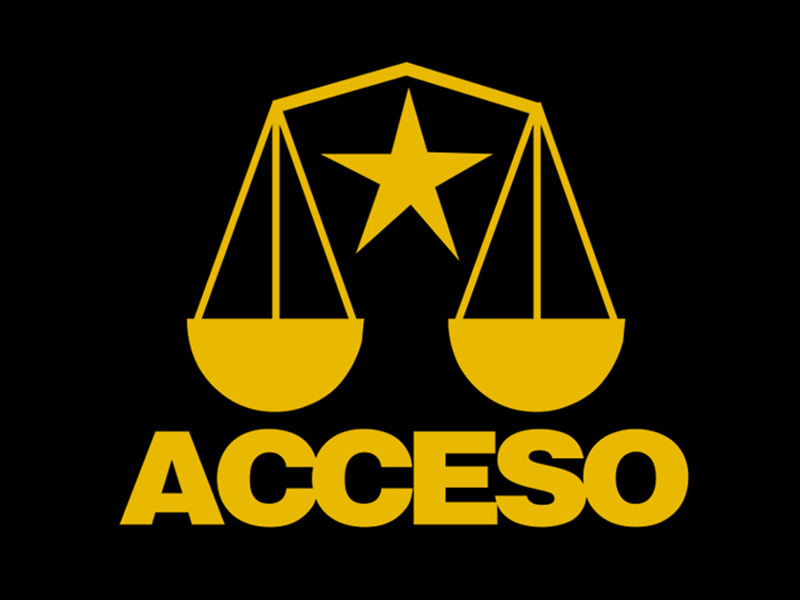 The ACCESO Team
The ACCESO Team is comprised of accomplished judges, prosecutors, public defenders, private lawyers, legal educators, multimedia artists and journalists all committed to promoting the rule of law in the Western Hemisphere. We are of the Americas - from as far afield as Bolivia, Canada, Chile, Germany, Mexico, Paraguay, Perú, and the United States. For the last decade, Proyecto ACCESO has been the legal think-tank leading the charge for a better future in the Americas. Check here for more about our Team.
Some publishing articles about our work in Latin America over the years:

Local Program Brings U.S. Law To Latin America, KPBS FM local National Public Radio station in San Diego 2010
Shoeshine Boys In La Paz Need A Good Lawyer , Wall Street Journal 2008
Improving Justice South of Border, L.A. Daily Journal 2003
Legal group makes its case for the U.S. judical system, SD Union Tribune, 2001
Look south, not just east, Re-engaging Latin America, SD Union Tribune 2005
Now more than ever, justice through the rule of law, SD Union Tribune 2001